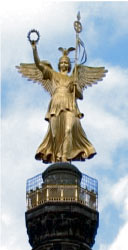 William Olsson, the director, and Johannes Albin
Alfvén, the main actor, traveled to Berlin
together. In order to move around freely and to
blend in more easily, William had no crew, but
did the filming himself.

Johannes became one with Albin and William
told the people they met that he was doing a
documentary about his friend Albinís journey.

People opened up their lives and the camera was
allowed to register everything as "Albin" made
friends for real, interacted in their lives and
fell in love.

The film was shot this way to attain a realism
that can only be achieved through a documentary
technique. Real people. Real places.

In one word: Authenticity.